At Element, we are very active throughout the fleet industry. Last week, several Element team members gathered at the 2018 Automotive Fleet & Leasing Association Conference in Orlando, FL alongside industry professionals for networking, learning and growth opportunities. AFLA brings together nearly 550 members across the industry, including fleet managers and buyers; auto manufacturers and dealers; remarketers; fleet lease; management; maintenance and repair companies; safety, transporting, upfitting and more.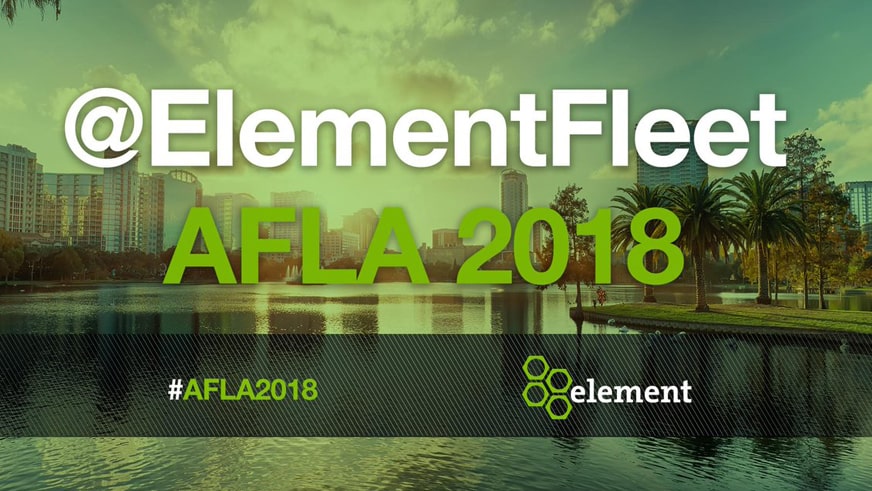 Here are some of the highlights from this year's event:
Inspiring keynote speakers
The event began with the Women in Fleet Management breakfast, where Dr. Bridget Cooper, change strategist and author, spoke about finding calm in the storm. Dr. Cooper's bestselling books bring groundbreaking ideas and insights into action plans for effective communication, conflict resolution and mastering change.
Several other keynote speakers joined us at the conference, including:
Steve Donahue, bestselling author, filmmaker and business revolutionary
Jim Barnes, supply chain and procurement expert
Tyler Cohen Wood, cyber-intelligence national security expert, author and speaker
Rudy Ruettiger, one of the most popular motivational speakers in the U.S.
Eye-opening fleet education sessions
Brad Howatt, VP, Financial Systems and Effectiveness for Element, participated in a panel discussion on emerging accounting and tax trends in fleet. After that, we broke into best practice roundtable sessions on various fleet topics. This annual event creates a forum for fleet professionals to share information, which is what AFLA is all about.
An update on AFLA's strategic initiatives
As president of AFLA, I shared an update on the association's current strategic initiatives. AFLA continues to evolve and improve. We are in the final year of our current strategic plan – which strives to provide value to the organization and access to industry knowledge and expertise. Additionally, through our global initiative, we've partnered with like-minded organizations around the world, allowing fleet professionals in the global space to share best practices around the world. In December, we will establish a new strategic plan for the next three years. Learn more about our mission at AFLA.org.
At the end of the conference, my term as president ended. Vice President, Dave Durepo, is my successor. It was a sincere honor and pleasure to lead AFLA for the past year. I was able to work alongside the best and brightest in the industry to advance the organization's mission. As I retire from Element after 32 years, I am grateful for the connections I made both at Element and across the industry. The passion, commitment and willingness to work towards common goals is truly unique. I look forward to watching the future of fleet management unfold.