It was a great week at NAFA I&E 2018! More than 1,000 fleet professionals from around the world gathered in Anaheim, California. At Booth 372, Element demonstrated how our products and services are reinventing fleet management. The weeklong event also included several educational sessions and opportunities to make connections in the industry.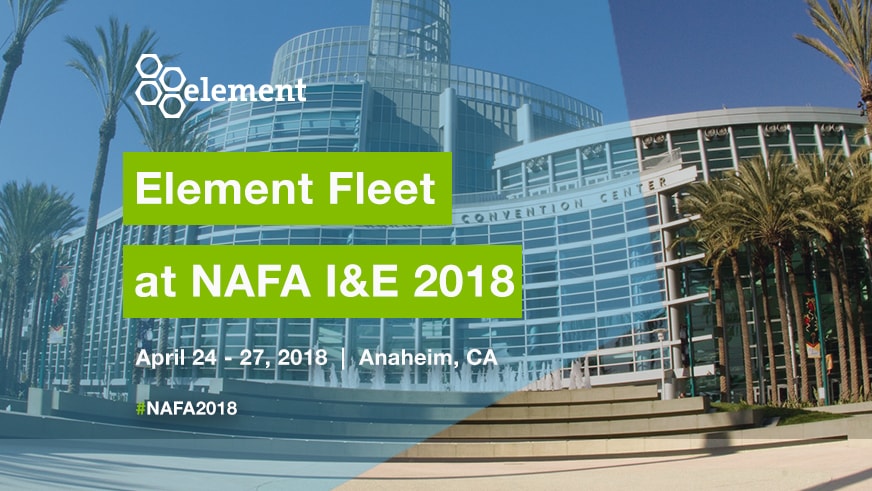 Educational Sessions
Wendy Kupper shared her expertise with new fleet managers in a session titled "Essentials for a New Fleet Manager." She covered the fundamentals of running and maintaining a well-managed fleet.
Michele Cunningham participated in an executive session on Tuesday, titled, The M Word – Does Mobility Replace Fleet?
"Does mobility replace fleet? No, quite the opposite. Fleet becomes an enabler for mobility which is just a small slice of an overall transportation strategy," Cunningham said.
Element's Mike Mrosko and Jayme Schnedeker joined two speakers to cover the trends of toll roads in the U.S. and Canada.
It was standing room only for an invaluable session discussing 'The Latest and Greatest Technology for a Safer Fleet' with Jim Ludovico and Ashlee Biggs proudly representing Element's reinvention of fleet.
NAFA Funding Challenge
On Tuesday, at the Chapter Appreciation Luncheon, NAFA Foundation president, Claude Masters, talked about the foundation's ambitious goals – and a text-to-donate funding process to help make them happen.
"If you have a stake in the mobility game, I'm asking that you consider making a donation to the NAFA Foundation. Text the word 'NAFA' to (855) 912-7003 and you will receive instructions on how to make a secure donation," Masters said.
Element is inspired by these developments, and we're offering a limited-time challenge where we will match donations to the NAFA Foundation, dollar-for-dollar up to $15,000, until the end of next Friday, May 4.
"We were particularly interested in the mobility study they want to do. We felt this was something that Element should invest in, and get other people and organizations to invest in," said Mary Sticha, CAFM®, Senior Vice President of Operational Excellence.
To see photos of what went on at NAFA I&E this year, check us out on Twitter, @ElementFleet. Thank you to all who made it a great event – we are looking forward to next year in Louisville, Kentucky!