Next week, over 1,000 fleet professionals from around the world will gather in Anaheim, California at the 2018 NAFA Institute and Expo. Element Fleet experts are gearing up to showcase our products and services that are reinventing fleet management.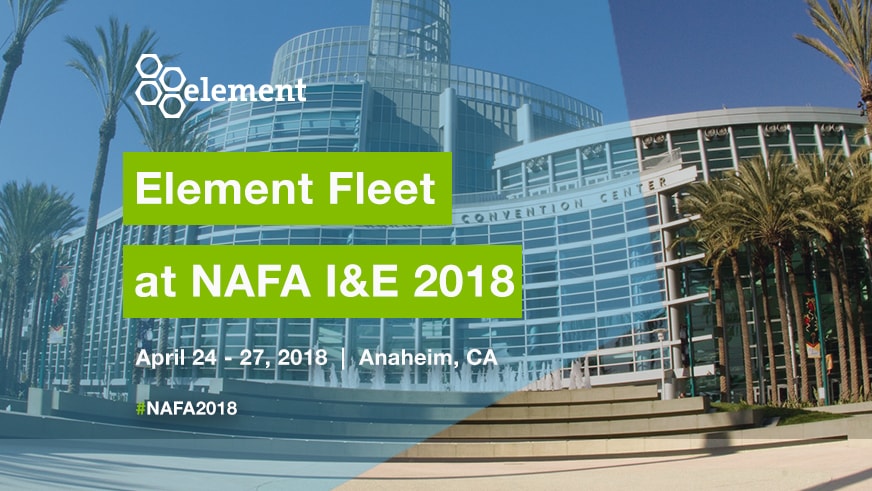 What is NAFA I&E?
As the largest event in the industry, NAFA's annual Institute and Expo is an opportunity to:
Network with thousands of fellow fleet professionals
Check out the latest products and services
Experience revolutionary education sessions
Attend fun special events and more
Here's what to expect from Element at 2018 NAFA I&E:
Learn more about our products and services
Check us out at Booth 372 and speak with our experts about the latest innovations and how our products and services help make fleets safer, smarter and more productive.
Meaningful educational sessions
Element will participate in several educational sessions. Michele Cunningham, senior vice president of Product and Marketing is a featured speaker on a panel of fleet executives who will discuss hot topics like mobility management and the connected fleet. Others include:
Essentials for a New Fleet Manager: Element's Wendy Kupper is one of two speakers who will cover the fundamentals of running and maintaining a well-managed fleet on Tuesday, April 24 at 10:30 a.m. in room 213A.
The M Word – Does Mobility Replace Fleet: Michele Cunningham will participate in an executive session on Tuesday, April 24, at 2:00 p.m. in room 210C.
The Ins and Outs of Toll Management: Element's Mike Mrosko and Jayme Schnedeker join two speakers who will cover the trends of toll roads in the U.S. and Canada on Wednesday, April 25, at 8:30 a.m. in room 213C.
The Latest and Greatest Technology for a Safer Fleet: Element's Jim Ludovico and Ashlee Biggs join fleet safety experts on Wednesday, April 25., at 10:15 a.m. in room 213C.
Celebrate the spirit of Anaheim and fellowship of NAFA
Element is the exclusive sponsor of the Taste of Anaheim cabana at Wednesday night's networking reception. Enjoy wine from Orange County wineries and beer from Anaheim's world-renowned breweries — some whose history traces back to 1870.
For more information about the NAFA 2018 Institute and Expo, visit nafainstitute.org.
To connect with Element at the show, follow us on Twitter @ElementFleet.