From financing and maintenance management to business disruptions, NAFA is a key event for all things fleet. Each year at NAFA Institute and Expo, fleet managers gather to discuss advancements and trends in the fleet industry – and this year, Element will lead many of these important discussions at the expo in Tampa, Florida.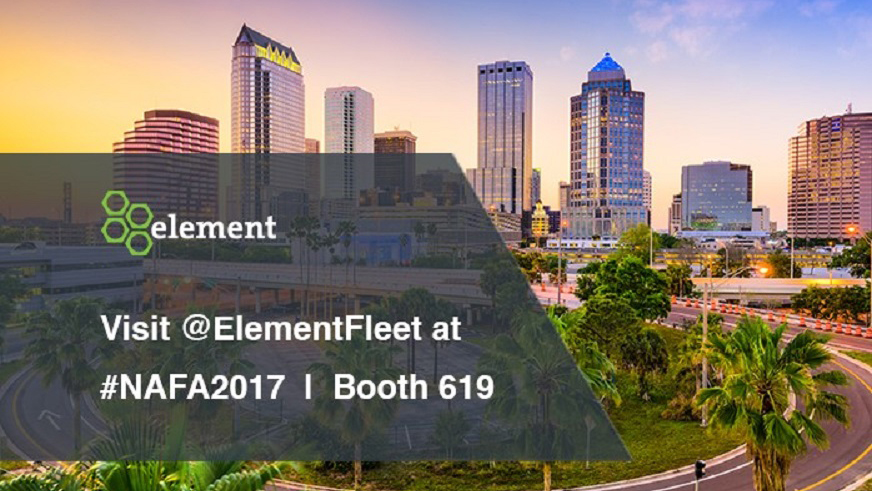 Here's what to expect from Element at NAFA 2017:
Xcelerate in action: We'll be demonstrating Xcelerate, our next-generation, analytics-driven fleet management platform that enhances driver experience while providing tools for proactive operation. Check us out at Booth 619. NAFA attendees can also speak with our experts about in-vehicle technology and the latest innovations in data visualization and analytics at our booth.
Meaningful educational sessions: Element will both moderate and participate in multiple educational sessions throughout the expo. Kristi Webb, president and CEO, North America, will speak on a panel of leading fleet executives, and several other Element experts will participate in speaking sessions throughout the expo.
Hear from Element representatives at these NAFA speaking sessions:
Heidi DiAngelo with Teva Pharmaceuticals – IFA Driver Behavior – What Works (and Doesn't) with a Global Approach
Heidi DiAngelo with Teva Pharmaceuticals and Bayer – IFA: Global Shift – Fleet Procurement Panel
Mark Smith with Safelite AutoGlass, Mondelez and Ingersoll Rand – In Your Customer's Eyes, Are You a Strategic Partner?
Michele Cunningham – Generational Reflections on the Transitional Roles of a Fleet Manager
Kristi Webb – General Session featuring a panel of fleet executives
Eric Stanley and Zingha Lucien with representatives from National Oilwell Varco and Amerit Fleet Solutions – Exciting Opportunities to Lower TCO
For more information about the NAFA 2017 Institute and Expo, visit http://www.nafainstitute.org.
To connect with Element at the show, visit http://www.elementfleet.com and follow us for updates on Twitter @ElementFleet.