We are less than a week away from our annual Ride & Drive at the Toronto Congress Centre on June 14th, and this year's event promises to be our best ever in Canada! In addition to all the vehicles we'll have for you to drive and the specialty upfitted trucks on display, I look forward to having a relaxed day to connect with our customers.
About the industry-leading event: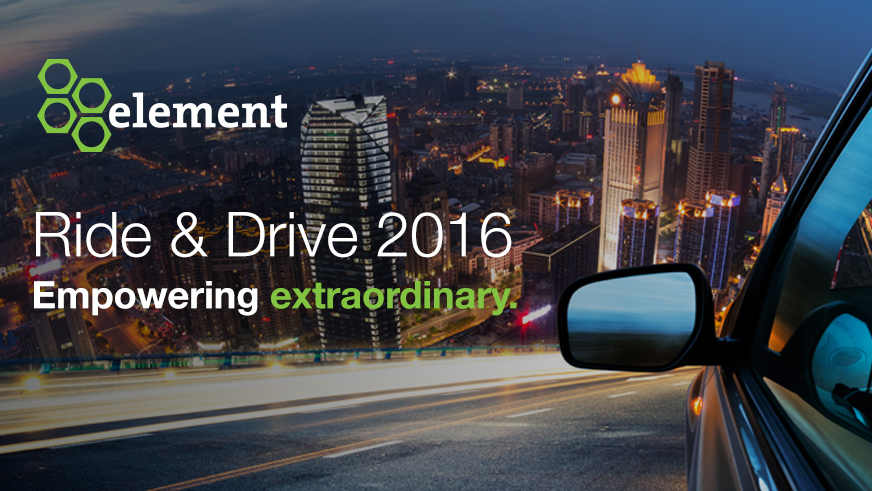 We have been hosting this annual event for a number of years, but we continue to innovate and refresh the event to provide significant value to our attendees. With this in mind, I am proud to announce our keynote speaker, Paul Zikopoulos, VP of Big Data Analytics at IBM, who will share exciting and thought-provoking insights on how Big Data and Analytics is shaping the future of the fleet industry. Our aim is to continue to empower our clients by providing insights into every aspect of their fleet operations, from costs and benchmarking trends to driver information and safety, environmental impact vehicle maintenance and more; and at the same time, deliver the extraordinary level of service they have come to expect from Element.
Additionally, I am very excited to welcome Kristi Webb, President and CEO of Element Fleet Management, to her first Ride & Drive in Canada. In our morning presentations, she'll be sharing Element's vision of growth and investment in our next generation technology, and I know she is also looking forward to meeting our customers and hearing their ideas and feedback.
Lastly, in what is a brand new initiative this year designed to make our clients' experience even more beneficial, our subject matter experts will deliver two workshops designed around topics that are important to their fleet:
For sales fleets: Remarketing best practices – How to get more bang for your buck!
For service fleets: The evolving Upfitting market – What's the best solution for your fleet? Check out our Ride & Drive website for the latest agenda, venue, speakers, hotel information and more.
I look forward to seeing you there!