Last week, we held our annual Element Fleet Canada Ride and Drive event in Toronto. Over 350 attendees gathered for this premiere event to hear from industry experts on important fleet topics. It was a packed house as Chris Gittens, President, Element Fleet Management Canada kicked off the event on Wednesday morning. Chris was accompanied by Element's new CEO, Jay Forbes, and Kristi Webb, CEO of Element North America on the main stage.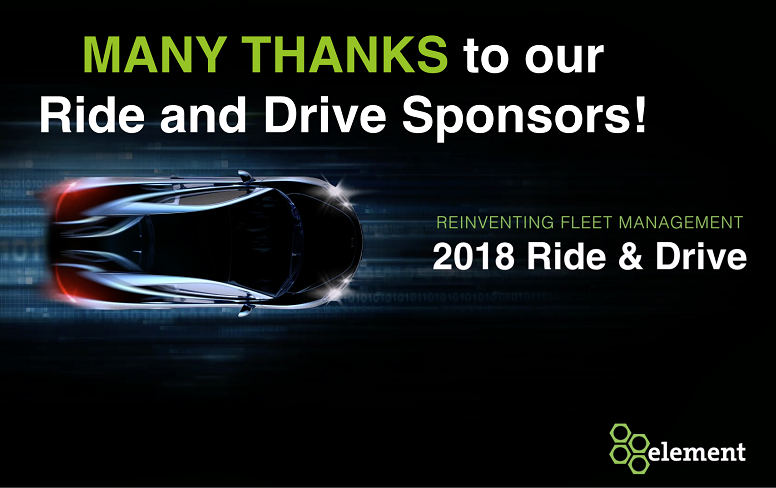 This year, Ride and Drive was a can't-miss event for fleet managers and other fleet industry professionals featuring:
Over 150 vehicles from motor companies, upfitters and specialty suppliers
Interactive workshops, focused on ways to make your fleet safer, smarter and more productive
Updates from Element leadership and industry experts
An expansive expo filled with the latest from our valued supplier partners
Digital Village
Customers enjoyed hands-on demonstrations of our technology and tools in our Digital Village. The Digital Village and Data Visualization Station offered space for Element Strategic Consultants to help customers visualize data to make smarter decisions for their fleet. The Element team also showed customers tools to support and drive value to their fleet at our Connected Data Solutions pavilion.
Keynote speaker
"There's never been a more exciting time in our history", said Michele Cunningham, SVP, Product & Marketing, Element Fleet Management. Cunningham spoke about this exciting time in the fleet management industry and the technology trends driving fundamental changes in the world, like the Internet of Things and connectivity, robotics, autonomous vehicles, AI, predictive analytics, on-demand shared mobility and more.
"Soon, every new vehicle will be a connected vehicle and every fleet will be a connected fleet. We are focused on helping customers get connected, view connected data and make smart decisions based on connected data," Cunningham said.
Our annual marquee Ride & Drive event promised to bring more to the table this year than ever before for all our stakeholders – including Element customers, suppliers and employees – and we delivered.
This event wouldn't have been possible without the tremendous support of our partners. We thank them for their efforts in making sure the Ride & Drive event ran flawlessly!