It's an early winter morning and you wake up to find a few inches of snow on the ground from the night before. You need to get to work and have no choice but to drive in the uncleared roads. Unfortunately, this happens all too often in the winter months.
Follow these important tips to keep yourself and others on the road safe during any winter weather Mother Nature throws your way: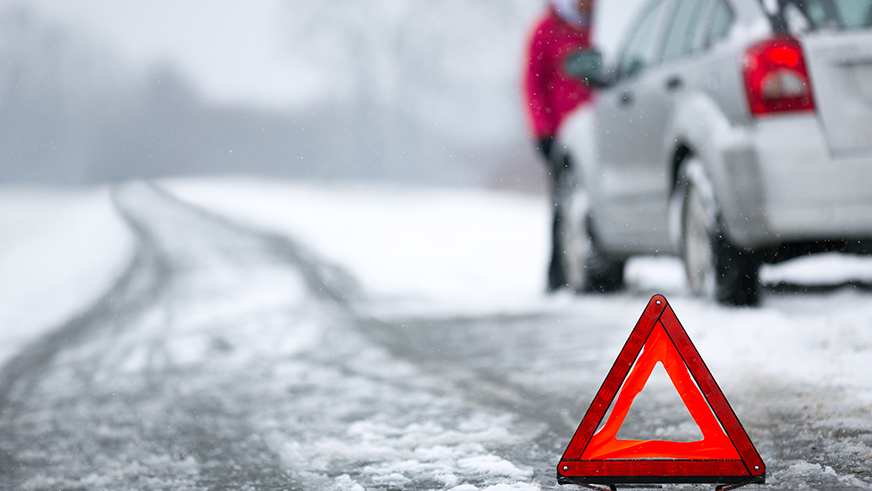 Avoid driving in storms
If possible, stay off the roads during any kind of winter weather. If it's unavoidable, make sure to slow down, especially on roads that have a layer of snow. Accelerate and decelerate carefully to avoid slipping and sliding. Don't try and get anywhere in a hurry. Plan your route and check road conditions and closures before you begin your journey.
Create a winter emergency kit
You never know what's going to happen on the road when Mother Nature decides to hit us with snow. It's important to keep necessities and emergency items in your car at all times during the winter season. Some things to keep in your kit in case of an emergency can include:
Flares and reflectors to signal for help
Jumper cables
Ice scraper
A shovel
Hand warmers
An extra coat, hat, mittens, etc.
A first-aid kit
Tire chains
For more ideas on what to include in your emergency kit, see our Emergency Preparedness safety tip.
Implement a Winter Tire Policy
While most new vehicles come equipped with all-season tires, the weather and road conditions where your drivers travel may dictate the use of all-weather or winter tires for part of the year. All-season tires normally provide safe all-weather performance but may not be suitable for traveling in severe snow conditions. Studies have also clearly demonstrated that winter tires provide several key safety features during cold weather periods. For example, the tread compound on winter tires is designed to excel when the ambient temperature drops below 40 degrees Fahrenheit / 7 degrees Celsius.
Replacing tires
It's important to thoroughly inspect your tires at least once a month. As temperatures decrease, checking your tire pressure is crucial because the tire inflation pressure decreases. You're more likely to have to put air in your tires more often in the winter than in the warmer months. The best time to check your tire pressure is after the vehicle has been sitting outside in the cold all night. If you're going to replace the tires on your vehicle, install them in sets of four and avoid mixing tires with different tread patterns and sizes as the stability of the vehicle could be at risk.
Remove all ice and snow from your vehicle
Take the time to slowly heat up your vehicle before attempting to drive it. Turn on your car and slowly defrost your windshield. Give it at least five minutes to begin warming up. It's important, not to mention required by the law, to remove all ice and snow from your vehicle before driving. Snow and ice flying off your vehicle while driving is a dangerous hazard to other drivers around you. Use an ice scraper and a brush to clear the melting ice and snow off. When clearing off your vehicle, be aware of the tailpipe. Make sure that all ice and snow are removed from your tailpipe. Leaving it there could cause carbon monoxide poisoning.
If there's an emergency:
If you are stalled or need any kind of help in a winter emergency, don't panic. Stay with your vehicle and turn your hazard lights on. Try your best not to leave your car running for long periods of time with the windows shut or in an enclosed area to avoid asphyxiation. If you need help, call local law enforcement. If you are a fleet driver, contact your fleet manager or fleet management company per your fleet policy.
The winter season is here, so take these tips into consideration as the weather begins to change our landscape to a white, icy wonderland.