When it comes to technology, no other fleet management company comes close. We've invested millions to design and deliver an advanced technology platform unlike anything the industry has ever seen. And we worked hand-in-hand with customers every step of the way to ensure we addressed their most critical needs. We're solving for the now while building for the next—that's how we empower extraordinary.
Fleet management on a whole new level Xcelerate™
Meet a fleet management technology system completely designed to give you access to the fleet information you need, when and how you need it. With a user-first design, Xcelerate provides a central hub for your fleet data through an interface that empowers you to optimize the performance of your fleet.
Inventory management
Transaction management
Ordering
Reporting
Analytics
Xcelerate delivers: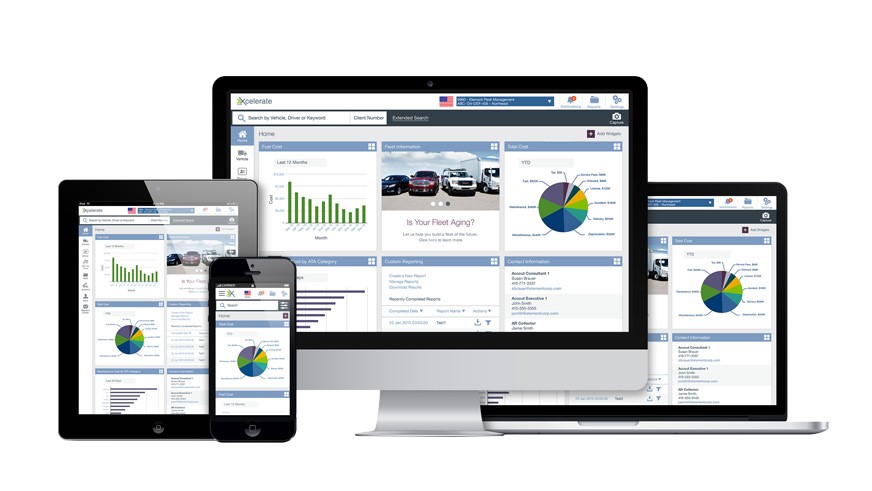 Infrastructure designed for scale, speed and stability
Customer portal personalized, simplified and made more flexible for efficiency and insights
Mobile driver tools to make it easier for your drivers to self-serve
Advanced analytics that deliver unprecedented insights and intelligence
Data-driven products and services that make fleet management more proactive and productive
Enhancing the driver experience with our revolutionary driver app
Xcelerate™ for Drivers
Helps your drivers tackle fleet tasks quickly and efficiently, whenever and wherever.
With Xcelerate for Drivers, your fleet drivers can easily:
Manage business and personal use mileage reporting
Place new vehicle orders and check status
View vehicle and service card information
Report lost or stolen service cards and retrieve PIN numbers
View company policy documents
Schedule windshield and maintenance repairs (U.S.)
View recall notifications
We know your drivers don't have time to think about their vehicle – so Xcelerate for Drivers provides a proactive to-do list for common vehicle-related tasks, such as location-aware maintenance shop and fuel locators, plus a smart dial feature for fast access to call center specialists.