New regulations are making compliance more critical than ever. But compliance doesn't have to come at the expense of performance and productivity. With Element Fleet Management's advanced telematics solutions for trucks, you can improve all three – while helping to reduce costs.
Expert consulting and customized fleet truck tracking that empowers impressive improvements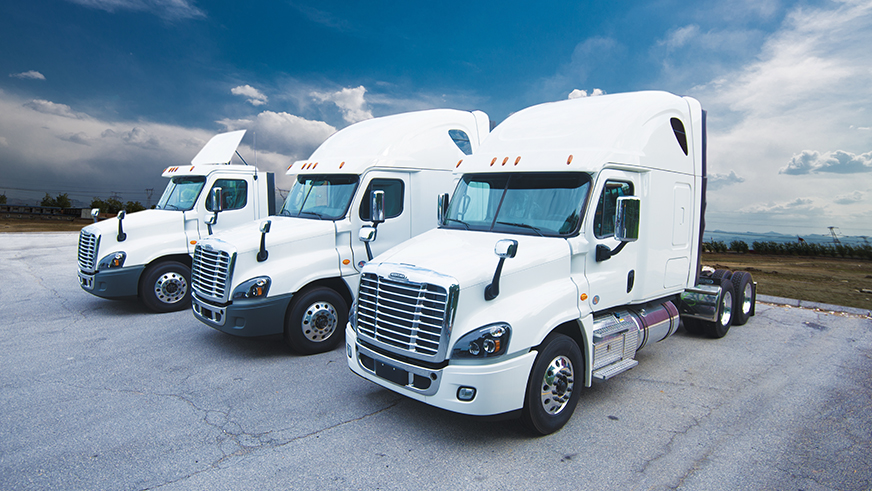 We have a diverse set of available tools and technology options that can help reduce your truck fleet's total emissions, fuel costs, operating costs and more while improving driver and vehicle compliance, accountability, safety and service response times.
Our end-to-end approach starts with our expert truck telematics consultants, who partner with you to identify meaningful improvement metrics before recommending an optimal product solution.
Ensure your drivers and truck vehicles are compliant with current regulations
Automated, paperless Hours of Service (HOS) solutions make it easier to monitor and manage truck regulatory compliance. Our consultants can help you implement a solution.
Electronic logging compliance in accordance with the FMCSA 395.20 ELD Mandate
Centralized view of HOS time, violations and submissions
Alerts you when drivers are nearing or in violation
Full-suite of mobile applications with easy-to-use driver interface
Offers easy access to detailed instructions that help drivers have successful inspections
Electronic Driver Vehicle Inspection Reports (DVIR) solutions eliminate paper records for faster, easier DOT compliance. Our experts can help design and deploy a DVIR solution that:
Offers electronic signature sign-off
Allows for verification of inspection completion using information from a mobile device and application
Provides live real-time inspection reports
Includes the ability to take photos on a mobile device at different inspection points based on platform choice
Streamline and simplify work order management
We can help you leverage real-time data capture and custom job forms to reduce paperwork and boost productivity.
Jobs are dispatched directly to drivers in the optimal order and can include electronic versions of all required forms
Custom forms are tablet and smartphone friendly
Electronic forms help eliminate the costs and time needed for drivers and mobile technicians to manage and maintain paper copies
Help drivers navigate their routes more efficiently
Your drivers are your most valuable asset. Our navigation solutions can help them more easily tackle whatever the road throws at them.
Access in-cab or via mobile devices
Over 10 million built-in points of interest (POIs) including truck stops and safe places to sleep
Provides clear vision of complex maneuvers to negotiate interchanges and junctions based on platform choice
Option to use custom messages to help drivers at specific route points
Why Element
The Element advantage
Flexible product options and truck financing structures
Expert, dedicated resources focused on program execution and administration
Comprehensive suite of tools and technologies for real-time monitoring and reporting
Advanced options such as complex route optimization and dispatch decision engines that seamlessly integrate with your back office systems
What you need to know about the ELD rule
The deadline to comply with the Federal Motor Carrier Safety Administration's electronic logging device (ELD) rule is fast approaching. Here's a high-level look at what you should know.
Your comprehensive guide to everything ELD
Learn who must comply with the ELD rule, who's exempt, why ELD devices are required and how they'll be enforced – plus, how Element Fleet Management can help.
What's the new ELD mandate?
Learn the basics of the new requirement and best practices for implementing electronic logging devices.