On August 26, our truck fleet experts and I were in St. Louis, Missouri, to attend the unveiling of Anheuser-Busch's 97 new fleet of Compressed Natural Gas (CNG) tractor trailers. It was a great celebration of a major accomplishment.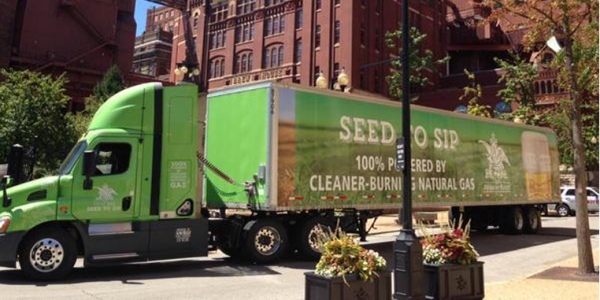 To help our client be successful, Element Fleet Management's heavy truck team worked with Anheuser-Busch to develop an innovative solution to meet their needs. In effect, we unbundled the standard all inclusive Full Service Lease, which provides financing, maintenanceand licensing services, and used key partners like Freightliner and Amerit to create a more effective solution for Anheuser Busch's truck fleet. Our truck experts also helped with coordination of the equipment specifications and design.
This move to alternative fueled tractor trailers is designed to help Anheuser Busch reach its corporate sustainability goal to reduce logistics-related carbon emissions by 15% through 2017.
Read more about the Anheuser-Busch CNG initiative in this article in TruckingInfo.
We're proud to partner with Anheuser-Busch and help make its Midwest fleet more efficient while also reducing its carbon footprint. The most significant accomplishment of this initiative was selecting and then coordinating with top-notch supplier partners – all of whom executed flawlessly in a short amount of time. Collectively, we are all making a difference in the environment and the communities where we live and work.