Fleet planning: The future of fleet CARB restriction

Element Fleet Management is committed to playing our part in building a sustainable future for the fleet industry. This includes helping our clients understand emissions reduction regulations that could affect their fleet and providing actionable recommendations to minimize the impacts to fleet operations.
Who regulates vehicle emissions in the U.S.?
There are two governing authorities for vehicle emissions regulations in the U.S.
Environment Protection Agency (EPA)
California Air Resource Board (CARB)
CARB is the clean air agency in the state of California and is responsible for defining vehicle emissions standards. Under the Section 177 of the federal Clean Air Act, states can opt-in to some or all of the CARB emissions regulations.
While the EPA is the federal agency responsible for tracking and regulating vehicle emissions standards, CARB set significantly more stringent criteria for tailpipe emissions than the EPA standard. In fact, the stricter criteria put in place by CARB has already been adopted by 17 states, plus California, and the list continues to grow.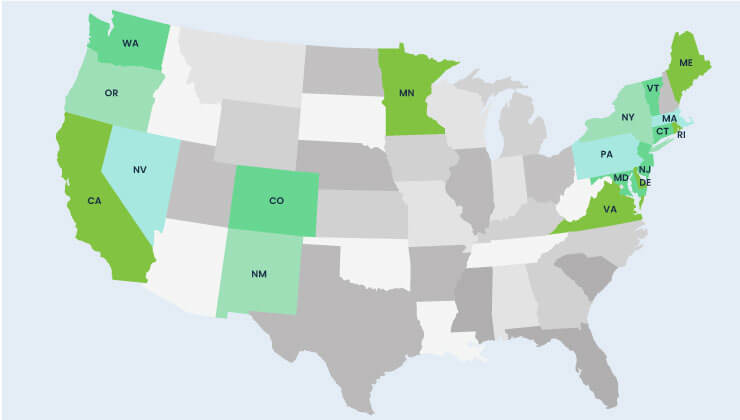 17 states with CARB in place
The impact of the California Air Resources Board on fleets
CARB aims to reduce toxic air contaminants emissions from of heavy-duty diesel vehicles and accelerate large-scale, zero-emissions transition of medium- and heavy-duty vehicles from class 2b to class 8 that operate in California and in states that adopt the criteria under Section 177 of the federal Clean Air Act.
Key regulatory vehicle emissions dates
Since 2020, CARB made significant strides in sustainability regulations including automatic holds through the DMV on registrations for vehicles not in compliance.
Most recently, January 2023 marked a critical CARB deadline requiring diesel trucks and buses in participating states and with a gross vehicle weight rating (GVWR) greater than 14,000 pounds to reduce exhaust emissions by meeting particulate matter requirements and upgrade to a 2010 or newer engine model year (EMY).
Through 2035, additional regulation deadlines for vehicle owners and manufacturers with further progress the sustainability efforts of CARB including:
Required inspections and maintenance of heavy-duty vehicles* to ensure compliance beginning in January 2023
Reporting and compliance fees required for vehicle owners in CARB's heavy-duty inspections and maintenance database beginning tentatively in July 2023 pending database launch
By 2035, zero-emission truck and chassis sales would need to be 55% of Class 2b-3 truck sales, 75% of Class 4-8 straight truck sales, and 40% of truck tractor sales** in California.
Fleet planning and recommendations to ensure your fleet remains in compliance
Vehicle emissions regulations are fluid as federal and state mandates shift to achieve sustainability objectives. Fleets operating across multiple states can further complicate compliance.
Review fleet vehicle inventory
Familiarize yourself with the list of states that adopted Section 177 of the federal Clean Air Act and visit the list regularly as it changes. If your fleet has vehicles that operate in these states, the engine compliance checker can help you keep track of regulatory requirements.
Take action
Ensure all fleet vehicles identified are within compliance of the law by replacing the units, repowering engines, qualifying for flexibility through CARB's regulatory reporting system, or submitting proof of exemption.
Replacement vehicles
Consider all future diesel vehicle specifications to have CARB-compliant emission engines vs. EPA emission engines. CARB emissions will have a wider footprint in the resale market.
Connect with Element experts
Emissions regulations can be complicated. Element experts are here to help you understand emissions requirements and recommend staying ahead of regulatory deadlines to minimize impact to your fleet operations.
Unique fleets have distinct needs. Contact Element today to gain a holistic understanding of CARB regulations implications to keep up with ever-changing emissions requirements.
*Heavy-duty inspection and maintenance regulations
**Advanced clean trucks fact sheet
Never miss an update
Subscribe for more news and thought leadership from Element.