Why optimal fleet vehicle replacement strategy works

Optimizing your fleet replacement strategy and having a plan in place while being prepared to adjust accordingly, will result in achieving successful outcomes year-over-year.
Element Fleet Management experts harness advanced analytics to track the crucial data points of your fleet operating costs to determine the most advantageous time to sell your vehicles. Considering your specific fleet assets and monthly mileage, the average cost per month of a unit can be calculated and projected to indicate the optimal time to replace that asset.
The case study below is an example of how we helped one client realize USD $460K in annual savings.
Measuring how to achieve optimal fleet replacement formula
Optimal replacement strategy is the point at which the increase in operating costs exceeds the decrease in effective depreciation. This is when the incremental effective depreciation benefit of keeping a vehicle becomes minimal (or flattens out), while the potential for costlier repairs and downtime events increases.
Our Strategic Consulting team assesses the balance of factors that will ultimately lead to spend reduction, productivity gains and risk mitigation.
Annualized Captial Recovery Cost (ACRC)
Depreciation and upfront costs (ACRC) are higher when a vehicle is first acquired, but then decrease and begin to stabilize as costs become spread out over longer periods of time.
Annual Operating Cost (AOC)
Maintenance and downtime costs, or variable costs (AOC) begin low but start to increase as vehicles age and move from small preventative maintenance events to additional costlier breakdowns.
Total Annualized Cost (TAC)
The intersection of these two cost curves represents the lowest total annualized cost (TAC) point, which indicates the time for an optimal replacement.
Optimal fleet replacement schedule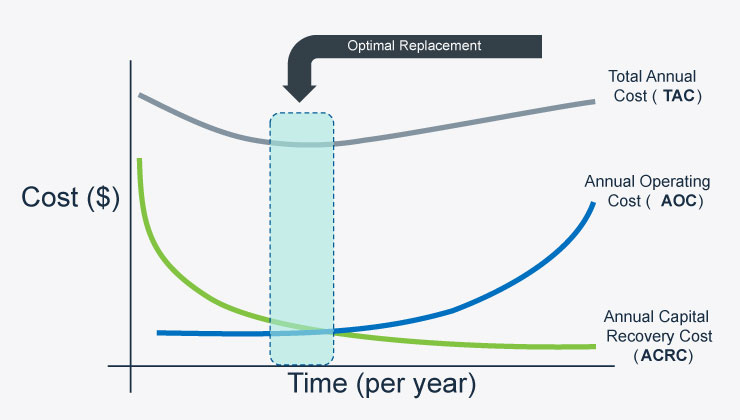 Critical considerations | Appropriate fleet replacement timing is critical to managing productivity, total cost of ownership and client satisfaction
The best fleet replacement strategy for the current and projected economic outlook
While microchip manufacturers worldwide are increasing production in an effort to overcome the global shortage, it continues to keep automakers constrained. Resale vehicle prices have cooled but are still at higher than historic levels. Fuel prices have eased since last year but still remain a considerable portion of total spend.
Solutions to minimize the impact of OEM delays on your fleet
Element's Strategic Fleet Consultants' proactive approach will lead your fleet in analyzing and navigating ongoing original equipment manufacturer (OEM) production challenges and remarketing constraints to inform an optimal fleet vehicle replacement strategy with successful outcomes.
Be prepared to place your orders earlier
Remain resilient with pre-acquisition planning and current cost analysis as most OEMs have shifted to an allocation model with supply chain shortages still impacting the market.
Be proactive
Planning will allow for more flexibility, adaptability, and increased cash flow. Orders from manufacturers have the potential to open up suddenly, by remaining nimble, staying current, and having your analysis up to date, your fleet will benefit.
Diversify your OEMs
The previous strategy of recommending a single brand of OEM to get the best discount has shifted. By expanding your network, you're more likely to secure all your allocations. Acquire portions of your fleet by batch ordering varying models, vehicle types and specifications to ensure fulfillment of all your requirements.
Strategic utilization of assets
Leveraging telematics identifies drivers with the longest routes who are driving older assets, so those vehicles can be swapped with drivers with newer assets, driving the shortest distances. This will keep odometer readings low and help in reducing maintenance spend.
With our strategy, you will be able to make informed decisions regarding utilization miles per month, total maintenance costs, and the impacts on your total lifetime fleet management costs.
Optimal fleet replacement case study
A fleet management partner that understands your fleet's unique needs is essential to help you develop a strategy to turn your data into valuable insights, ultimately leading to reduced spend. By leveraging our expertise, we can help you implement fleet telematics and other advanced technologies to track and monitor your fleet in real-time. This will also provide valuable insights into driver behavior, vehicle performance, and overall fleet productivity.
| | |
| --- | --- |
| Challenge | Our client wanted to reduce fleet costs in the following year by putting a hold on vehicle replacements and extending the service life of their vehicles. |
| Solution | Cash flow analysis showed the higher cost of depreciation was offset by lower maintenance and strong resale gains proving a consistent replacement cycle would be the best way to manage costs. |
| Result | Analysis completed by our Strategic Consultant provided a net savings of USD $460K in the coming year by adhering to the fleet's replacement policy. |
Minimize spend and maximize profitability
Never miss an update
Subscribe for more news and thought leadership from Element.