Optimize fleet garage management to drive efficiency

The ongoing original equipment manufacturer (OEM) production delays and supply chain restraints have continuously confirmed the critical importance of fleet vehicle maintenance. Fleets that own and operate their own garages are tasked not only with managing maintenance schedules and needed fleet repairs to minimize downtime, but also the added challenges of:
Maintaining asset and technician details,
Tracking vehicle repair history and warranties,
Parts, purchase order and inventory management,
Billing and payment administration and more.
Complete visibility to shop operations​ to drive fleet efficiencies
Client Garage Management, powered by Fleetrock, is a comprehensive, cloud-based solution from Element Fleet Management that enables a consolidated view of all service interactions of internally managed garages, plus a dynamic dashboard environment to analyze spend and lifecycle optimization related to all maintenance metrics.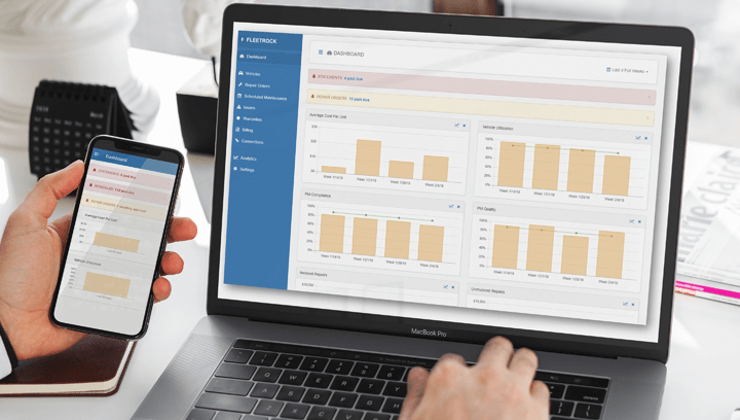 Desktop and mobile dashboards of Client Garage Management
Powerful data to drive short- and long-term fleet maintenance and garage improvements
The insights produced in the Client Garage Management dashboard raise opportunities for cost-saving maintenance improvements and, with the ability to action on holistic fleet optimizations with integrated data in Xcelerate™, Element's central fleet management technology platform.
Client Garage Management technology is proven to streamline and enhance the fleet maintenance process.
Increased fleet productivity
Preventive maintenance is a key factor in keeping fleet vehicles on the road for the duration of the lifecycle.


98% fleet vehicle utilization, keeping units on the road

Improved shop operations
For fleets that own and operate their garages, Client Garage Management helps image efficiency of operations to reduce downtime.



50% decrease in administrative shop tasks
30% increase in garage productivity


Maintenance and garage management cost savings
The advanced data reporting of our Client Garage Management solution delivers rich insights to action on fleet cost-savings opportunities.



25% improved overall garage management effectiveness
100% warranty recovery return on investment (ROI)
Get in touch
If you're frustrated with inefficient, manual processes or antiquated fleet garage management software, Element Fleet Management maintenance experts can help. Contact us today.
Data based on Fleetrock direct customer data. Results may vary.
Never miss an update
Subscribe for more news and thought leadership from Element.