Preparing for vehicle acquisition: What fleet managers can expect this year

Original equipment manufacturer (OEM) production delays and supply chain disruptions posed record-breaking challenges for fleets in 2021 and 2022. As the industry ramps up for model year (MY) 2024 ordering, anticipating and managing expectations, proactively preparing for vehicle acquisition challenges, and remaining agile in the event of shifting production environments remains of the utmost importance.
Element Fleet Management experts learned a lot from the challenges of the past several years and gained deep understanding of the ever-changing OEM production environment. Our guidance ensures you have the resources needed to navigate and prepare for the upcoming ordering cycle.
Challenges fleet managers should anticipate in 2023
Built-up demand
Over the past two years, short-notice and unexpected ordering cut-offs, limited fleet vehicle allocations and overall reduced production forced fleet managers to make compromises, keeping units on the road longer than expected or selecting vehicles from alternate OEMs. After two years of inventory challenges, the need to replace vehicles that are beyond their usual fleet lifecycle is resulting in significantly pent-up demand.

According to Thomas King1, president of the data and analytics division at J.D. Power, as production restraints improve, "several manufacturers are directing a larger portion of their increased production towards fleet customers." Despite this effort, however, he says, "We continue to believe there is a level of unfulfilled demand that exceeds the level of production and inventory, so a path to a more pronounced recovery exists, but it may be pushed to [calendar year] 2024 or even 2025."

Across North America, backlogs to replace fleet vehicles command strategic, proactive planning for MY 2024 ordering, including inflationary considerations, flexibility and diversification of OEMs and vehicle models where possible and obtaining advanced, necessary buy-ins and approvals for variations in makes and models. With a strong plan, alternate options and pre-approvals, Element can help ensure you're prepared to place orders as soon as ordering banks open and activate responsive ordering, if needed, to navigate the quickly changing ordering environment.
Used vehicle prices
During 2021 and 2022, when new vehicles were the hardest to come by due to production and supply chain restraints, used vehicle prices skyrocketed from the demand to replace vehicles with better ones when new vehicles were unattainable. January 2023 saw used vehicle asking prices fall to the lowest average since spring last year, due to factors such as improving inventory and decreased sales. Additionally, used vehicle values will likely see above-normal depreciation, especially in first half of 2023 according to Cox Automotive2.

Despite depreciation rates, the declining cost of used vehicles and the expectation that used vehicle prices will normalize in the second half of this year, prices for remarketing fleet vehicles are still historically strong. Element's Strategic Consultants identify this as an opportunity to take advantage of resale prices to maximize gains during the upcoming vehicle acquisition period.
Staffing shortages, increase downtime and inflationary costs
Extended replacement cycles of fleet vehicles increase the likelihood of unexpected maintenance. Inflation is causing a 11% increase in maintenance costs. This, compounded by longer repair cycle times for maintenance and accidents due to shop staffing shortages, can make unforeseen maintenance cost far more in vehicle downtime than the inflationary increase. This makes its even more critical to stay on top of preventive maintenance to avoid costly repairs of aging vehicles.

While inflation and staffing shortages are out of your control, a critical part of planning for the upcoming MY 2024 ordering cycle is identifying surplus vehicles and those that are costing far more in maintenance than they are worth keeping on the road. It is recommended by Element's Strategic Consulting team to prioritize replacement or remarketing of these vehicles as inventory of new vehicles improves and resale prices remain high.
What is the inventory outlook for fleet vehicles?
AutoForecast Solutions3 estimates automakers to cut 2.7M vehicles from production in 2023. Though far from a full rebound, this is still a major improvement over vehicle production cuts in 2021 and 2022 caused by OEM production delays related to the global microchip shortage and supply chain interruptions. This significant improvement to vehicle production volume in 2023 will bring some levity to the fleet industry during upcoming acquisition cycles.
Vehicle production improvements in 2023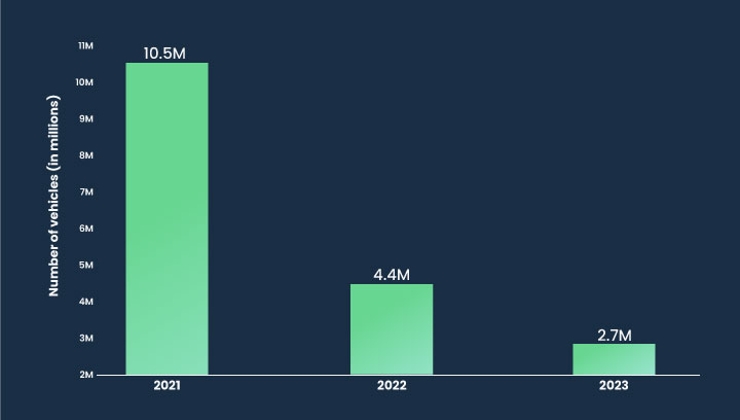 Number of vehicles in the millions in 2021 through 2023
Fleet electric vehicle (EV) outlook
Some newly-release EVs have not been made available to fleets or in such limited quantities that certain models are hard to come by and some OEMs are postponing new EV model introduction dates and production goals into 2024.
However, production and inventory impacts to EVs are expected to normalize along a similar path as internal combustion engine (ICE) vehicles. Element's experts anticipate improvements in the second half of 2023, with additional fleet-focused EV options expected to be made available more readily in the market in calendar year 2024. Despite these challenges and setbacks, 66% of fleets are considering EVs – up from 43% in 2021 – and have additional considerations to take into account to achieve their goals.
Fleet vehicle acquisition strategies in 2023
Never miss an update
Subscribe for more news and thought leadership from Element.