Transforming fleet management: the power of data and breakthrough technology

In the complex and ever-evolving world of fleet management, staying competitive means embracing innovation and adopting cutting-edge technologies. This involves leveraging advanced technologies such as telematics, predictive analytics, and automation to optimize vehicle performance, improve fuel efficiency, ensure timely maintenance, and enhance fleet driver satisfaction and retention. By adopting these solutions, fleet managers can advance operational efficiency, reduce costs, and stay ahead of the competition in this dynamic landscape.
Today, that innovation is driven by a powerful combination of breakthrough fleet technology and actionable data. By harnessing these tools, fleets can transform their fleet management systems, creating opportunities for significant cost savings and improved operational efficiency.
Element Fleet Management is at the forefront of transformative fleet data and technology. Our expertise is underpinned by our robust understanding of fleet operations and a commitment to generating top-tier, technology-driven solutions that redefine the ways our clients manage their fleets.
Leveraging fleet data to improve key performance indicators (KPIs)
To fully understand the transformative power of this approach, it's essential first to know what we mean by 'fleet data.' At its core, fleet data is a comprehensive collection of information related to your fleet operations that can inform decisions to drive improvements. It goes beyond surface-level insights and encompasses a wide array of critical factors that impact your fleet's performance and efficiency including:
Fleet driver performance metrics, providing insights into behavior, productivity and safety.
Vehicle health indicators, monitoring fleet vehicle conditions and performance.
Fuel consumption rates, optimizing fuel usage for cost savings and environmental benefits.
Maintenance schedules, minimizing downtime and maximizing uptime.
This holistic view of fleet data points, when collected and analyzed systematically, paints a vivid picture of your fleet's performance. When tied to your overall business objectives and with the right tools, your fleet data can be transformed into actionable insights, empowering you to make informed decisions that enhance fleet KPIs such as fleet productivity and efficiency.
Leveraging Element Fleet Management's digital tools
With our extensive experience as a fleet industry leader, we provide a comprehensive suite of innovative digital tools intricately designed to optimize and streamline fleet operations. Coupled with the strength of our partnership, by harnessing the power of fleet data analytics, these cutting-edge solutions empower businesses to make data-driven decisions, enhance efficiency, and maximize productivity in their fleet management endeavors.
Additionally, our digital tools are easily integrated, providing a seamless experience for fleet managers to access and utilize crucial data insights from various sources. This integration allows for a more comprehensive understanding of your fleet's performance, enabling proactive decision-making that can benefit your business.
Xcelerate Intelligence: transforming data into insights
Xcelerate Intelligence provides more than just data analytics; it's a decision-making engine. By transforming raw fleet data into actionable insights, Xcelerate Intelligence provides real-time visibility into your fleet's performance. This empowers you to monitor key performance indicators, identify emerging trends, and make data-driven decisions that enhance operational efficiency and drive cost savings. Xcelerate Intelligence is a game-changing interface that provides fleet managers with the tools they need to stay ahead of the curve in the ever-evolving world of fleet management.
Xcelerate Intelligence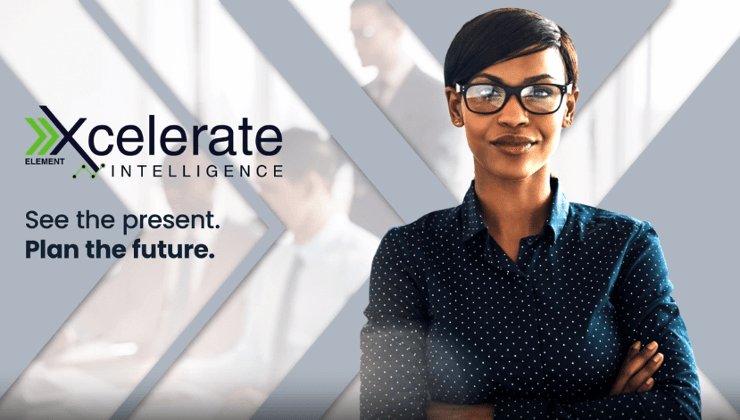 Connectivity Solutions: the power of real-time data
Element's advanced connectivity solutions revolutionize fleet management by offering a comprehensive, real-time view of your fleet's operations. Through the collection and analysis of data on vehicle location, driver behavior, fuel consumption, and more, these cutting-edge solutions empower you to enhance safety, optimize fuel efficiency, and improve operational effectiveness. With the power of real-time data at your fingertips, you can proactively address potential issues, minimize downtime, and maximize the overall performance of your fleet, ensuring a seamless and successful operation.
Benchmarking capabilities: setting the standard for excellence
Benchmarking is a crucial tool in modern fleet management. Element has 1.5M vehicles under management across more than 700 industries enabling a robust benchmarking database. By comparing your fleet's performance against fleets with similar profiles as yours and industry benchmarks, you can identify areas for improvement, set realistic goals, monitor progress, and achieve better results.
Lifecycle cost analysis for fleet vehicle acquisition
At Element Fleet Management, we understand that selecting the right vehicles for your fleet is a complex process that involves more than just the initial purchase price. Our comprehensive lifecycle cost analysis for vehicle acquisition helps our clients make informed, cost-effective decisions. This analysis considers all the expenses associated with owning and operating a vehicle including:
Acquisition and financing,
Fuel and costs associated with electric vehicles (EVs) such as electricity costs,
Maintenance,
Fair market value projections, disposal costs and more.
This holistic approach enables us to identify the true total cost ownership of a fleet vehicle over its life span, providing valuable insights that empower you to optimize your fleet's cost-effectiveness. By accurately forecasting these costs, we enable you to make an informed comparison between conventional and electric vehicles, ensuring that the vehicles you select align with your budget, your commitment to sustainability and your fleets unique needs.
Sustainability model: estimating cost and emission impacts of EV conversion
Element Fleet Management is taking groundbreaking strides in promoting sustainable fleet operations with the introduction of our sustainability model. This innovative data model is specially designed to aid businesses in making a well-informed transition from conventional vehicles to electric vehicles (EVs). By utilizing this model, fleet managers can easily identify the best fit drivers for an EV pilot, and make data-driven decisions that align with their environmental commitments and financial objectives, driving sustainability while ensuring cost-effectiveness.
The model projects relevant fleet costs and performs emissions analysis for fleets to gain full understanding of the impact EV transitions can have on their operational costs and greenhouse gas emissions. This model serves as a powerful tool for making strategic decisions about fleet electrification, providing clarity on the financial and environmental benefits of transitioning to EVs. Additionally, it takes into account various critical factors including:
Current fuel costs,
Electricity costs,
Current emissions,
EV emissions and more.
By incorporating these factors, the model provides a holistic view of the potential savings and emission reductions associated with transitioning to an electric fleet.
Strategic Fleet Consulting: expert guidance for maximum value
By combining the advanced data from Element Fleet Management's digital tools with our Strategic Fleet Consulting service, our clients can maximize the value of their fleet data as we work in partnership to understand unique business needs, develop a customized strategy, and implement solutions that deliver tangible results. Guidance from our team of consultants is an additional valuable service that further amplifies the expertise and outcomes of enhanced fleet performance, operational efficiencies, cost savings, and more.
Embrace innovation and start actioning on fleet data today
The integration of breakthrough technology, actionable data and customized strategic fleet consulting is revolutionizing fleet management. Contact Element Fleet Management to learn how you can drive cost savings and improve operational efficiency in your fleet.
Never miss an update
Subscribe for more news and thought leadership from Element.