What you need to know about fleet electric vehicle acquisition

Have you started your fleet electrification journey yet? Regardless of where you are in your transition, electric vehicle acquisition presents an important lever to accelerate your fleet sustainability goals. Most original equipment manufacturers (OEMs) are making significant strides in electric vehicle (EV) production. In fact, announced EV models are expected to jump from 300 in 2021 to over 1,000 in 2030 (M.J. Bradley & Associates LLC, 2021). Further supporting EV production, 13 additional EV battery plants are expected to be operational in the U.S. within the next 5 years (CleanTechnica, 2021).
Plan your fleet EV acquisition strategy and take advantage of opportunities to electrify
3 critical aspects to keep in mind for EV acquisition
The decisions your organization makes in terms of fleet vehicle selection can help you drive meaningful progress in reducing your fleet's tailpipe emissions through more eco-friendly alternatives such as EVs. As more vehicle choices become available, there are three critical aspects that you should be mindful of:
Consider vehicle availability for your fleet composition (sedans, crossovers, service vans, etc.)

Ensure you have considered specific charging use cases for your fleet and operating needs (e.g., home vs. depot charging and Direct Current Fast Chargers (DCFC) vs. level 2 chargers) as well as the additional budget needed for this infrastructure

Choose reliable OEMs and charging partners that can satisfy your immediate and long-term fleet needs
Fleet EV availability continues to increase as major OEM raise EV investments
OEMs are demonstrating substantial progress towards electrification through public commitments, investments, and increased battery production capacity. Major OEMs are making significant research and development (R&D) and capital expenditure (capex) investments in the EV space - a leading indicator for the acceleration of the EV transition. Investments of $300 billion have been allocated towards EVs and digital technology (BloombergNEF, 2022). More EV availability creates opportunities for fleets to drive meaningful impact towards a more sustainable future through model year planning and vehicle selection.
Graph of OEM investment towards EVs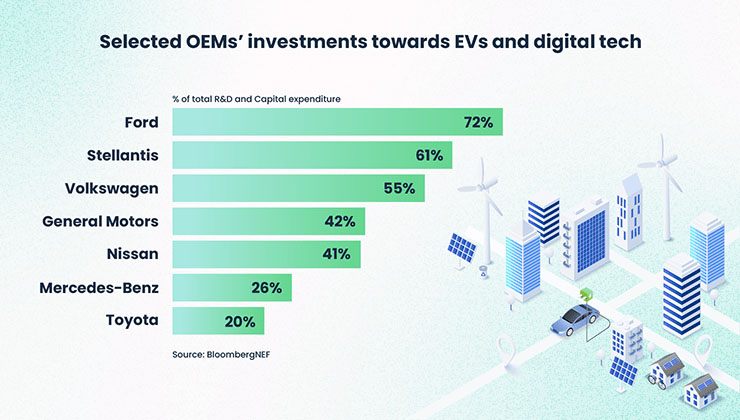 Chart: Selected OEMs' investments for towards EVs and digital tech; % of total R&D and Capital expenditure
Over the past two years, major OEMs have increased spend to prepare for the EV transition. For example, 72% of Ford's total R&D and capex is now focused on EVs and digital technology. In addition, the company restructured to create a new division, "Ford Model-e", dedicated to internal EV production and aims to produce more than 2 million EVs by 2026. General Motors (GM) is also picking up momentum in the EV space. GM plans to invest $35 billion in EVs between 2022 and 2025 (GM, 2022) and has introduced a new division branded "BrightDrop", dedicated to developing EV solutions for last mile delivery commercial customers (Forbes, 2021). In addition, Chrysler's parent company Stellantis has allocated over 60% of total R&D and capex towards EVs over 5 years - equivalent to $34 billion (BloombergNEF, 2022). Stellantis plans for "a full battery-electric portfolio" by 2028 (Cars.com, Jan 2022). Volkswagen also committed 55% of its R&D and capex towards EVs (BloombergNEF, 2022). The company aims to be fully carbon neutral by 2050 (CNBC, 2022).
Ready to take the next step towards an electric future? Discover our end-to-end electric vehicle fleet offering, Arc by Element ™ or get in touch with an Element representative to help guide your EV transition.
Never miss an update
Subscribe for more news and thought leadership from Element.