2023 Fleet maintenance outlook & macro trends

Fleet maintenance and repair costs have risen significantly, going from single digit increases to double digit increases over the last few years. Whether you manage your fleet on a local or global scale, there are things you can do to reduce your fleet's total cost of ownership and control rising fleet maintenance costs.
Fleet maintenance costs are on the rise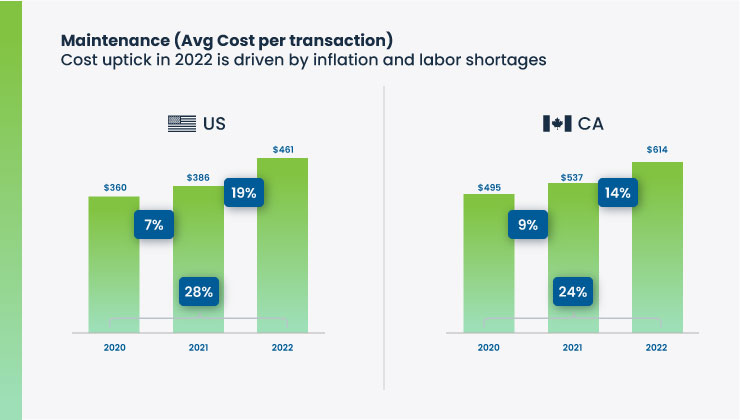 Source: Element's proprietary maintenance data. Averages are based on local currency.
Fleet maintenance trends and outlook for 2023
Parts shortages and delays: Inflation and supply chain challenges have had a major impact on fleet vehicle maintenance. There is a push for repair shops to utilize used parts to speed up repairs. Repair costs are rising due to higher prices on replacement parts, tires, and glass. The cost of tires has increased by 15% over the last year. While the integration of technology/safety systems in windshields has led to higher replacement claim costs. Parts delays will remain a challenge in North America for 2023. On average, it takes up to 30 days longer to get parts at body shops compared to 2019.

Rental cost and vehicle availability: Clients are facing high rental costs due to increasing downtime caused by parts shortages and the lack of availability of new vehicles. Additionally, some regions are experiencing a shortage of rental vehicles because of high demand and longer rental use. Automotive Fleet confirms that the number of extended service life vehicles on the road continues to outpace the acquisition of new replacement fleet vehicles.

Labor shortages: A shortage of qualified service technicians has resulted in higher hourly labor rates and longer repair cycle times. Shops are also paying more for available technicians, due to the challenge of recruiting and retaining them. To meet demand, the United States bureau of labor statistics estimates that the industry will need to add 46,000 (6%) more technicians by 2026. In Canada, 54,000 new job openings for technicians are expected by 2031, arising from expansion and replacement demands.

Raw material costs: Supply chain issues are impacting many segments of the economy including the cost of raw materials. Notably, the cost of crude oil and rubber have increased as well as lubricants, which tend to follow the crude oil market.

Synthetic oils: Widespread original equipment manufacturer (OEM) adoption of synthetic oils is becoming more common in fleet vehicles. This makes oil changes more costly per transaction, but the higher quality oil also means less frequent shop visits. Inflationary pressures have driven up the cost for oil changes by over 9% between 2021 and 2022 and it is projected that the price for oil changes will continue to trend upwards this year.
Maintenance strategies to reduce total cost of ownership:
Implement a robust preventative maintenance program: Preventative maintenance is your best line of defense against unexpected repairs. Keep up with preventative schedules to reduce repairs and vehicle downtimes. While longer-lasting synthetic oil leads to more time between oil changes, it's important to stay on top of tire rotations and critical vehicle inspections (such as brakes) for increased safety and productivity. Automated driver alerts and exception reporting will help to keep preventative maintenance top of mind and identify vehicles that are overdue for service. 

Use status tracking: Clients have been leveraging repair status tracking, with requests increasing due to parts shortages and rising rental expenses. Element offers managed rental, providing consistent follow-up with repair shops to track repair estimated time of arrival (ETA) to minimize extended rental time and costs.

Take advantage of available fleet discounts: Being part of a structured maintenance program can help you realize the benefits of a nationwide maintenance network with negotiated pricing. Element's national account maintenance network realizes 8% - 15% cost savings. Drivers can visit one of the 50,000 national and independent providers in our North American fleet maintenance and repair network.

Choose higher quality parts for better performance: Avoid using medium to low quality parts, as while they may offer cost savings in the short term, they will cost more in the long run. Higher quality parts will maximize the performance of fleet vehicles and reduce breakdowns, so that your fleets can operate efficiently.

Treat your replacement strategy as a continuous routine: A regular replacement rhythm is critical to ensuring your fleet's health remains balanced. Rather than treating replacement as a one-time event, keep a disciplined approach to replacement and consider innovative solutions.

Undertake driver training: Driver behavior is important in managing maintenance costs. How many of your drivers typically speed, idle more than they need to, or have harsh braking and hard cornering events? Efficient driving helps to prevent accidents and avoid unnecessary repairs. Ensure safety policies and driver training are up to date. We can work with you to identify opportunities to reduce maintenance costs and risks.
Find out more about Element's fleet maintenance and repair services here or get in touch with us!
Never miss an update
Subscribe for more news and thought leadership from Element.