EVs are closer to cost parity than you think

Higher upfront costs are often seen as a barrier to electric vehicle (EV) adoption. However, operating costs are lower for EVs compared to internal combustion engine (ICE) vehicles. Many analysts expect total cost of ownership (TCO) parity between EVs and ICE vehicles as soon as 2024 to 2026 for shorter range EVs and 2027 to 2030 for longer range EVs (Environmental Defense Fund, Apr 2022). A key driver for parity is declining battery prices as EV batteries make up 30-35% of EV prices. Manufacturers are adopting significant EV investments and more resilient supply chain strategies to make battery sourcing more affordable (NPR, Mar 2022).
There are many factors contributing to lower fleet electric vehicle costs
Vehicle TCO considers fixed costs such as vehicle acquisition and resale as well as variable costs including fuel/electricity and maintenance. Charging infrastructure is typically independent from TCO parity but should be considered as part of your EV fleet acquisition strategy. Looking for help to navigate your ICE to EV transition? Arc by Element™ offers an end-to-end EV fleet services from pilot design to charging solution planning, financing and more.
EV acquisition costs are trending down as battery prices decline
Battery prices have fallen significantly over the last ten years. However, to enable TCO parity EV battery prices should fall below $100/kWh (BNEF, Nov 2021).
The International Council on Clean Transportation forecasts that battery costs will drop to $104/kWh in 2025 and $72/kWh in 2030 (International Council on Clean Transportation, April 2019). In addition, the U.S. department of energy is betting to reach $80/kWh in battery costs by increasing domestic production (U.S. Department of Energy).
Resale data on EVs is limited but EV sales are climbing, contributing to better performance
EVs make up a small portion (0.47%) of total auction sales, compared to ICE vehicles. However, since 2018 the relative percentage of EV sales has been steadily climbing, and geographically EVs sales have become less centric to California.
The number of unique EV make/models has also been increasing each year since 2018. While Tesla is the predominant EV manufacturer, traditional OEMs are closing the gap.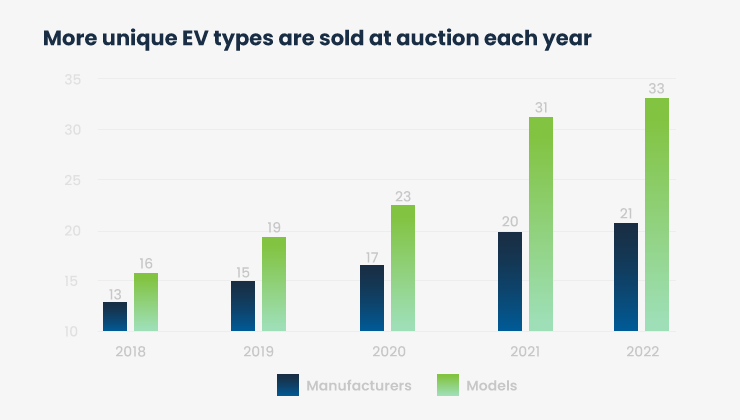 Based on used vehicle sales over past 5 years from auctions across the U.S. Similar trends are present in Canada.
How does depreciation for EVs compare to ICE vehicles?
"Overall, EVs currently depreciate faster than comparable ICE vehicles as they are still relatively new to the used market. However, many premium EVs do outperform ICE vehicles in auction sales, and it is only a matter of time before more EV models experience the same trend as the premium segment." – Trevor Ramsey, Valuations Manager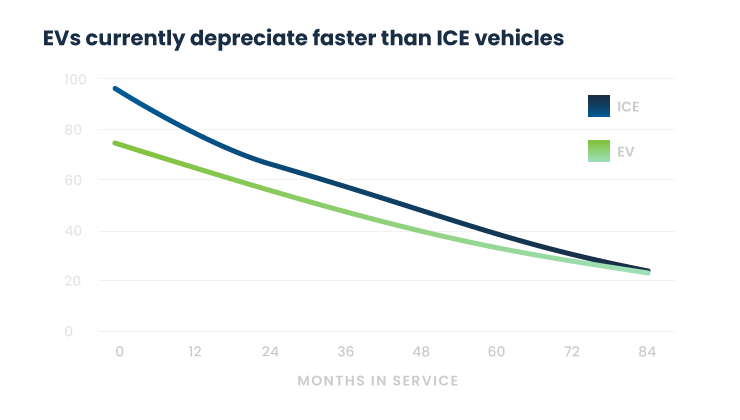 Depreciation trend represents estimates of auction sale price as a percentage of Manufacturer's Suggested Retail Price (MSRP). This is based on sales data over last 2 years.
Electricity costs remain steady despite fluctuations in global oil markets
Many ICE vehicle fleets need to adjust budget expectations due to fuel price volatility. The good news about EVs is that the electric energy market is steadier compared to the oil market, enabling more predictability in EV operating costs.
Electricity costs are domestically regulated and not dependent on global oil markets. The majority of electricity is produced domestically with an increasing proportion of renewable resources (ZETA2030, March 2022).
Electric vehicles use less energy and require less maintenance than ICE vehicles
Commercial data is only now becoming available however according to a recent Consumer Reports analysis, EV consumer drivers could save between $1,800 and $2,600 in operating costs for every 15,000 miles they drive. (Consumer Reports, March 2022)
EVs are more technologically advanced than ICE vehicles, but are much simpler mechanically with fewer moving parts, lower maintenance costs, reduced downtime, and increased reliability.
In terms of energy efficiency, EVs convert up to 62% of the energy from electricity to power the vehicle, compared to petroleum's 21%, making EVs significantly more efficient to drive (Corporate Electric Vehicle Alliance Overview, 2018).
Line items such as oil changes, sparkplugs, or transmission fluids can be avoided with EVs. In fact, based on maintenance service intervals for comparable OEM offerings, preventative maintenance costs for commercial fleet EVs are projected to be 30 to 40% lower than ICE vehicles.
Ready to compare ICE and EV alternatives for your fleet?
There are many tailwinds to EV adoption and transitioning to EVs is becoming a more attractive option for many fleets. In fact, growing interest in fleet sustainability is evident based on a recent Element survey conducted with nearly 200 fleet decision makers. 82% of respondents have begun their EV journey and are either researching, executing, or launching an electrification program. Assessing financial costs is a key driver for many fleets looking to deploy EVs.
Below is an example TCO ICE and EV model comparison. A fleet partner like Element can help you project cost estimates over the life of the vehicle for fleet budgeting and planning. The model is flexible to assist with scenario analysis and factors in electricity costs for a strong ICE to EV comparison.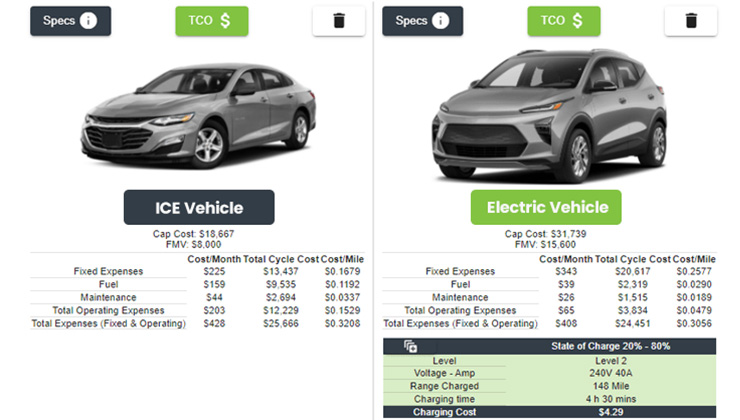 Cost estimates are illustrative and specific results differ by client and vehicle type.
Model year fleet vehicle planning provides the opportunity to positively impact your TCO, safety, productivity, and environmental footprint for years to come. A fleet partner like Element can help you build a successful plan and analyze lifetime fleet TCO among different vehicle alternatives.
Interested in comparing financial options for your fleet? Get in touch today to learn how Arc by Element™ can complement your EV strategy.
Never miss an update
Subscribe for more news and thought leadership from Element.