The latest evolution in fleet fuel management

As fuel prices rise, so do the chances of fuel misuse and theft. Traditional approaches use transaction data to flag irregular re-fueling, but the current situation demands something more.
Preventing fuel fraud
Introducing our Fuel EKG™ product: The first artificial intelligence-powered fuel monitoring solution that goes beyond simple flagging. Rich insights and visual storytelling tools come standard, enabling fleet managers to have proactive conversations with fleet drivers and their managers about concerns.
Traditionally, 1-3% of all fleet fuel transactions show signs of fraud. Analysis conducted by our partner Motorq finds that by analyzing combined fuel transaction data with telematics data you may find fuel misuse in 3-5% of transactions. These exceptions range from a card being used without the appropriate vehicle present, filling over the tank capacity or filling over the expected tank capacity. In one study, 444 exceptions were identified across 1,500 vehicles in just 27 days.
Connected vehicle data is the "magic" behind the modern approach. By pairing transaction data with connected vehicle data, our Fuel EKG™ product represents the latest evolution in fleet fuel management.
Preventing fuel fraud graph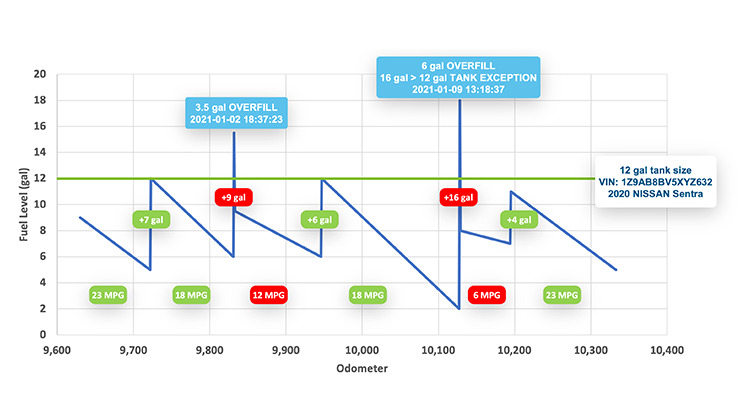 Get in touch with Element experts today to help you identify the biggest opportunities for fuel savings using connected vehicle data.
Telematics data can also help you forecast the cost of wasteful idling. Learn more about how you can make data-driven decisions to reduce this impact to your bottom line.
Never miss an update
Subscribe for more news and thought leadership from Element.