A vehicle emergency kit prepares you for the worst, from bad weather and breakdowns to collisions or fires. Make sure these items are in your vehicle to ensure your own safety and prepare for the unexpected: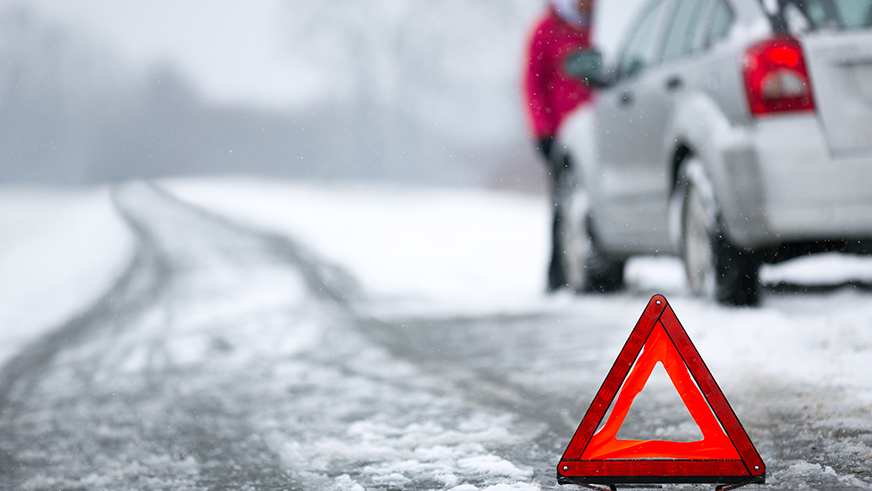 Automobile extras
It's crucial to keep items, such as the ones below, in your vehicle. in case of a flat tire occurs or a situation where you can't start your car again and need to jump it.
Jumper cables

Spare tire, jack and lug wrench
Flares
Reflective triangle
Tire pressure gauge
Coolant and motor oil
First aid and safety items
To keep yourself and your passengers safe, stock your vehicle emergency kit with potentially life-saving items, even if you don't think you'll ever use them:
Fire extinguisher
First aid kit including band-aids, adhesive tape, antiseptic wipes, gauze, and other first aid essentials
Pocket knife
Tool kit with items like screwdrivers, pliers, a wrench, and duct tape
Cell phone car charger/portable charger
Flashlight with extra batteries
Compass and Maps
Paper towels
Bottled water
Winter driving essentials
Subzero temperatures and freezing wind often bring dangerous road conditions, putting both drivers and vehicles at risk. It's important to be prepared to take on whatever Mother Nature throws your way. Here's what to keep in your vehicle:
Ice scraper
Shovel
Tire Chains
Sand or Cat litter for tire traction
Extra clothing and/or a blanket
June is National Safety Month and this week, the National Safety Council is focused on emergency preparedness. Take some time out of your day to ensure that you have all the necessary items and materials in your car safety kit to prepare for any kind of disaster or emergency that may happen.