Each year, vehicle fires destroy billions of dollars' worth of industrial and commercial vehicles. Follow these tips to make sure you know how to handle a vehicle fire if it happens to you: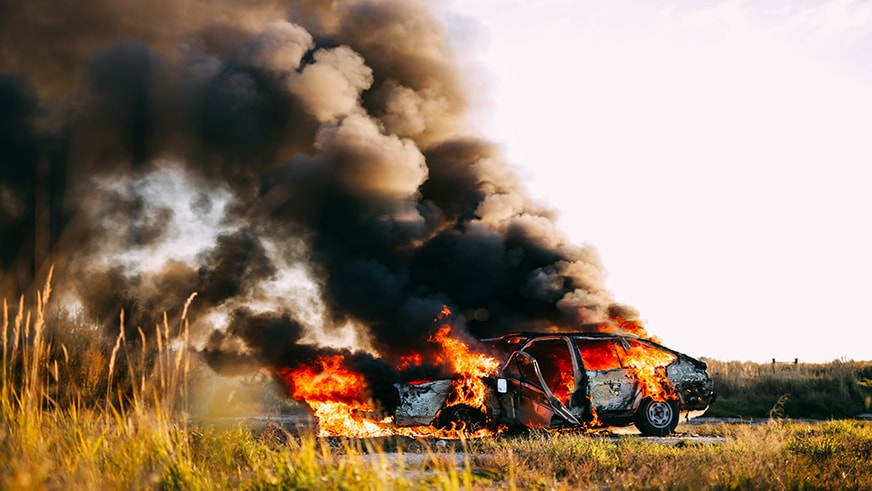 How to prevent a vehicle fire:
Service your vehicle regularly to make sure it's well-maintained
Ensure oil and gas caps are screwed on tightly
Keep an eye out for rapid changes in fuel or fluid levels, as well as engine temperatures
If you're transporting gasoline within your vehicle, keep a window open for ventilation and do not transport gas cans and propane cylinders in the main cab of the vehicle
Avoid smoking cigarettes in and around your vehicle
Always keep a fire extinguisher in your vehicle
Notice and pay attention to the warning signs of a vehicle fire
Fire warning signs:
Before any vehicle catches fire, there may be warning signs. If you notice any fluid or oil leaking from your car, take your vehicle to be serviced immediately. Check for loose wiring or blown fuses that could cause an electrical fire. If there is smoke coming from the engine or sparks flying, it is crucial to have your vehicle looked at by a professional auto mechanic as soon as possible to avoid any future fires.
What to do if your vehicle catches fire:
If you're driving and notice any of these signs, pull over as soon as it is safe to do so. Once you pull over, turn off your vehicle and evacuate yourself and any passengers. Move at least 100 feet away from the vehicle in case it does catch fire. If the vehicle catches fire, call 9-1-1 immediately. If it doesn't catch fire but you're still worried about driving it, call to get your vehicle towed to the nearest autobody shop.
For more safety tips, visit Tips and Advice.