The customer's sales reps transport sensitive medical equipment to surgery centers/hospitals to oversee eye surgeries. The equipment needs to be securely transported in the vehicle but also between the vehicle and the operating room. Instances of damage to the equipment from moving around in the truck and damage occurring after the equipment was unloaded were noted as well as safety concerns for the drivers.
Our solution
Element engineered a more secure transport dolly and loading and storing mechanism to ensure safe transport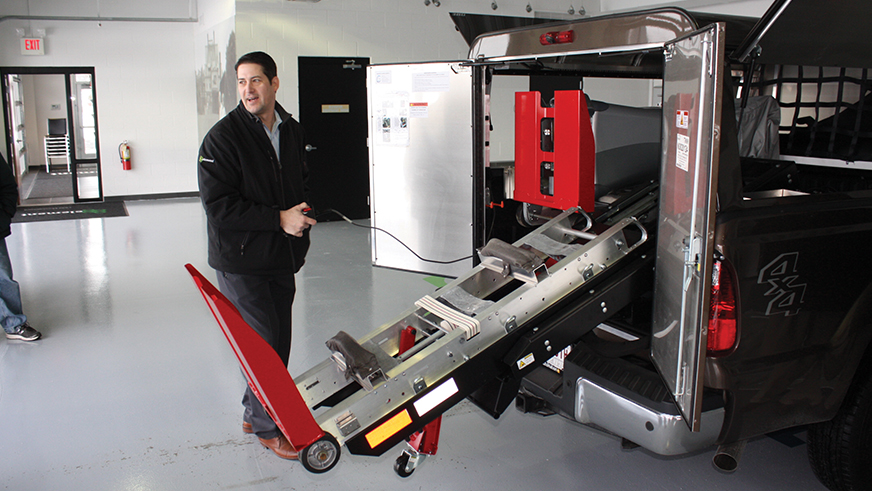 Element Fleet Managment leveraged broad industry knowledge while collaborating with the customer to engineer a more secure transport dolly as well as reliable and consistent loading and storage mechanism in the vehicle to ensure safe transport. The system utilizes standard parts to ensure easy maintenance and repair. The new lift incorporates a systematic process for loading/unloading equipment safely. We provided the customer with clear, operational instructions located on the vehicle and an instructional video.
Impact
Each sales rep can now securely transport two units in each vehicle. They can also more confidently and quickly load and unload the equipment without risking damage to the unit or bodily injury to themselves. Now surgeons can rely on the equipment arriving safely and ready to use.
Fleet Profile
Fleet Type
Service/delivery/sales
80 3/4 ton pick-up trucks
Services Utilized
Financing
Title, Licensing & Regulation
Risk & Safety
Accident
Fuel
Personal Usage & Expense
Fleet Partnership Outsourcing Solutions