Trends brought to you by Element – Q4 2023 Insights

Discover emerging fleet trends
Looking to strategically position your fleet in the dynamic global fleet market? Stay ahead of the curve with valuable insights and recommendations. Download the latest Q4 2023 Trends report today.

Executive summary
As we approach the end of 2023, North America has grappled with fluctuating inflation and rising interest rates. In the U.S. inflation peaked at a 40-year high of 9.1% in mid-2022, but has since slowed, leveling off at 3.7% in September 2023.1 Similar trends have been observed in Canada and Mexico. The recent slowdown can provide some relief to fleet budgets as we enter 2024.
Supply chain disruptions remain a concern for fleet management. Unpredictable inventory levels are also impacting spare parts, adding complexity to the situation.2 To overcome these challenges, fleet leaders must adopt robust strategies, including proactive planning and leveraging technology for improved visibility and control.
Here are the highlights of the macroeconomic trends for this quarter:
Resale
In the wholesale used vehicle market, prices fluctuated throughout the year. However, Q3 brought stability. We anticipate this trend to continue despite potential challenges in Q4. To navigate this landscape effectively, it's crucial to adhere to your optimal vehicle replacement strategy and closely monitor both new and used vehicle price trends.

Maintenance
In today's automotive landscape, surging auto part prices are a common challenge. This is due to pandemic-induced supply chain disruptions and advanced vehicle technology. However, businesses are adapting by using predictive maintenance to reduce downtime and transitioning towards leasing vehicles to ease the financial burden.

Safety
To make roads safer, it is vital to implement a strong safety program and identify high-risk drivers who are often responsible for fleet accidents. Utilizing vehicle connectivity and telematics to monitor risky behaviors, provide feedback, and reduce accidents are key measures to enhance road safety.
Resale
Summary
Wholesale used vehicle prices fluctuated throughout the year. However, in Q3, the market stabilized. This progress is supported by improving supply levels. While Q4 may face macro-economic challenges, we expect the used vehicle market to remain steady.

Key trends
The wholesale used vehicle market has experienced a year of fluctuation, influenced by key factors. These factors include high interest rates, a decline in vehicle affordability, and reduced consumer sentiment.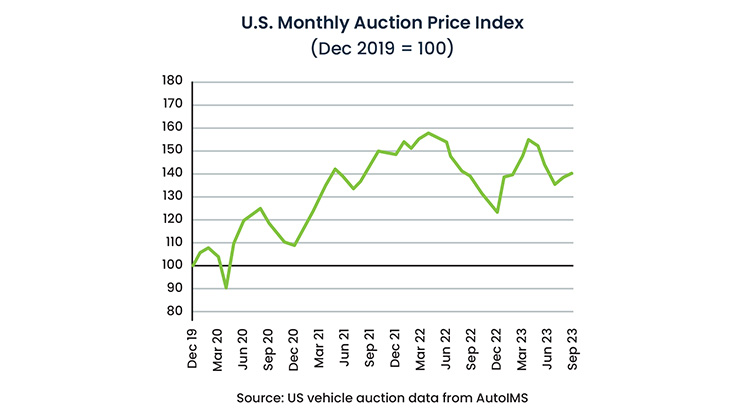 US vehicle auction data from AutoIMS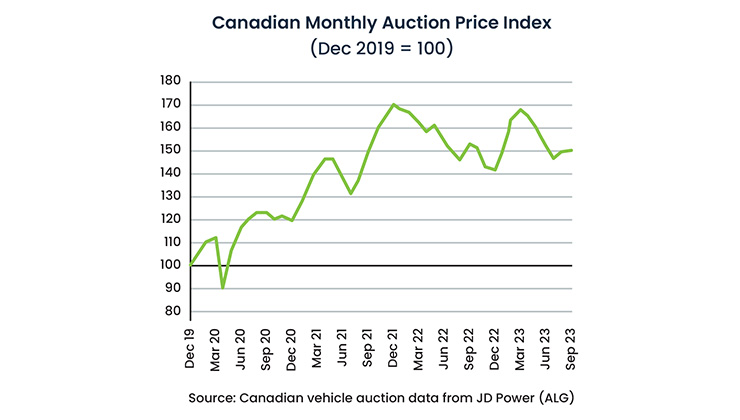 Canadian vehcile auction data from JD power (ALG)
During the third quarter, the market achieved a sense of stability as both new and used vehicle inventories tightened. Despite potential macroeconomic challenges in the fourth quarter, the used vehicle market is expected to remain steady. Seasonal depreciation patterns are anticipated for the remainder of the year.
Although the availability of used vehicle inventory is relatively limited, supply levels are gradually improving. This improvement serves as a positive indication as we navigate through the final quarter of the year.
In Mexico, we have noticed a similar trend where used vehicle sales have experienced a 12% decline in comparison to the third quarter. This is despite the fact that sales of used vehicles have already rebounded to pre-pandemic levels.
Recommendations
Continue to adhere to your optimal vehicle replacement strategy.
Be vigilant when it comes to placing new vehicle orders, considering the timing of deliveries and potential delays.
Monitor price trends of new and used vehicles as you plan replacement schedules.
Maintenance
Summary
Auto part prices in North America are rising due to supply chain disruptions and advancements in vehicle technology. The industry is also experiencing labor shortages of trained technicians. To overcome these challenges, there is increased investment in technology to automate routines and reduce reliance on manual labor. In this changing environment, embrace holistic solutions for value and sustainability.

Key trends
The surge in auto part prices is influenced by the ripple effects of the COVID-19 pandemic and advancements in vehicle technology. Supply chain disruptions due to the pandemic have caused critical parts shortages, driving up vehicle repair costs by up to 20% in the last year.3 Modern vehicles are increasingly complex, with specialized parts that become less commonly produced over time, further impacting availability and cost.4 Rising costs in industries like labor and transportation have also contributed to increased auto part prices.5
A significant labor shortage, particularly in trained technicians, stems from multiple factors. These include perceptions of the industry, limited educational opportunities, and the physically demanding nature of the work.6 The industry is often seen as low-tech and dirty, deterring potential entrants. However, modern vehicles require advanced skills for maintenance and repair, highlighting the critical role of technicians. The lack of emphasis on vocational and technical training in schools has further contributed to fewer individuals pursuing careers in this sector.
Investments in technology that automate routines and identify daily workflow patterns of fleet operators7 are revolutionizing operations, reducing dependence on manual labor, and mitigating the impact of technician shortages. Moreover, they facilitate predictive maintenance to proactively prevent costly repairs and enhance the longevity of fleet vehicles.
Recommendations
Budget for more expensive repairs due to extended replacement cycles, continuing parts shortages, and high labor costs.
Provide telematics and fleet connectivity solution to help increase productivity and reduce downtime.
Leverage connectivity as future of maintenance will come from improved fleet analytics with maintenance alerts and predictive services.
Consider financing or leasing your fleet vehicles to reduce your financial burden and improve cashflow.
Safety
Summary
To improve fleet safety and minimize corporate risk, it's crucial to establish an effective fleet safety program. Did you know that clients using Element's safety solution see a 21% drop in collision rates on average? By leveraging vehicle connectivity and advanced telematics, we can easily monitor driver behavior and provide timely coaching.

Key trends
When developing a fleet safety culture, it is crucial to identify high-risk drivers as they are statistically responsible for a significant portion of fleet crashes. On average, 10% of drivers are accountable for 40% of fleet accidents.8 Vehicle connectivity offers improved visibility into driver performance, allowing for the tracking of risky driving behaviors. Real-time feedback and coaching can be provided to drivers through advanced telematics solutions. Additionally, connected solutions can offer predictive maintenance capabilities, reducing the likelihood of vehicle breakdowns and accidents.
Recommendations
Continuously monitor new and existing driver's Motor Vehicle Records (MVRs) to identify risky behaviors early.
Provide driver training and regular communication to reinforce the safety message.
Implement telematics systems to monitor driver behavior and develop effective safety policies.
Utilize real-time feedback to educate drivers and provide immediate coaching.
Client case study – corporate visibility and telematics partnership
Download the full report today!
Download
Never miss an update
Subscribe for more news and thought leadership from Element.